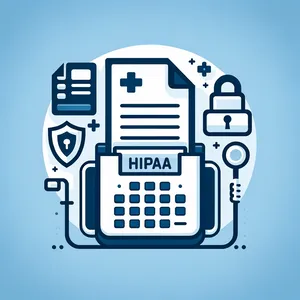 When looking for an online fax service, especially for sectors that handle sensitive data like healthcare, where HIPAA compliance is a must, there are several key factors to consider.
Here's what to look for:
Security and Compliance: The primary concern in healthcare and other regulated industries is the security of protected information. A HIPAA-compliant fax service ensures that all data is encrypted during transmission and storage, and that the company adheres to strict privacy regulations.
Reliability: The service should have a proven track record of uptime and reliability. Look for companies that offer redundancy and have measures in place to prevent outages.
Integration Capabilities: A good fax service should easily integrate with your existing electronic health record (EHR) systems, customer relationship management (CRM) tools, and other business applications to streamline workflows.
Ease of Use: The interface should be user-friendly, allowing users to send and receive faxes with minimal training. This includes the ability to fax from email, web applications, and even mobile devices.
Scalability: The service should be able to scale up or down depending on your company's needs without significant changes in cost, performance, or convenience.
Support and Training: Look for a service that offers robust customer support and training resources to help your team make the most of the fax service features.
Cost-Effectiveness: Compare the pricing plans of various providers, taking into account any hidden costs such as setup fees, overage charges, and costs for additional users or pages.
Customer Reviews and Testimonials: Research what other customers are saying about their experiences with the fax service. Reviews can give you insight into the service's performance and customer satisfaction levels.
According to Atlantic.Net, WestFax provides a HIPAA-compliant fax service that caters to government bodies, healthcare providers, and financial organizations through a 100% cloud-based platform. The WestFax API is designed for easy integration with existing systems, and the transition is facilitated by a dedicated implementation team, simplifying the process for new users​​.
Further details from G2 highlight that WestFax is considered a leading provider of HIPAA Compliant Fax services, with features such as Fax to Email, Print to Fax, Fax Broadcast, and API Integrations with various systems like ERM and CRM. The combination of fax-management features and user-friendly software makes it appealing to frequent fax users​​.
Software Advice adds to the accolades by positioning WestFax as the top cloud-based faxing service, offering secure faxing with end-to-end encryption and ensuring HIPAA compliance for the safety of medical records​​. User testimonials underscore the ease of use, functionality, and quality customer support, indicating that no additional telecom, hardware, or software purchases are necessary to use the service. The interface is also praised for its user-friendliness and compliance with both HIPAA and PCI standards​​.
User reviews on Slashdot emphasize WestFax's suitability for integration, mentioning that the HIPAA-compliant cloud fax service enables staff to send and receive faxes online using any device, which enhances flexibility and accessibility​​.
Overall, WestFax stands out as a service provider offering a HIPAA-compliant fax solution that meets stringent security requirements, provides a reliable and scalable service, and integrates seamlessly with various systems. The user-friendly interface is complimented by comprehensive customer support, making it a convenient choice for organizations of all sizes.