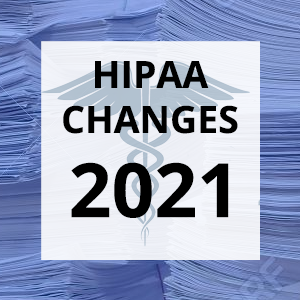 The Health Insurance Portability and Accountability Act of 1996 (HIPAA) had four primary objectives, but it is best known for its provisions that protect the privacy of patient's medical information. The HIPAA Privacy Rule was developed shortly after the law was initially passed, and it has evolved over the years to adapt to changes in technology and in the healthcare system itself.
Healthcare providers, health plans, healthcare clearinghouses, and vendors that are deemed "covered entities" under HIPAA must stay up to date with the latest developments, or risk exposing patient information to unauthorized parties and running afoul of regulatory agencies.
What new developments should cover entities be aware of? Here are some key highlights from the first few months of 2021:
If your organization is a covered entity subject to HIPAA privacy regulations, it's important that you stay up to date on new developments in the law. It's also important to work with vendors who have a thorough understanding of HIPAA. This is especially true when it comes to electronic medications such as e-mail and fax.
Under HIPAA, any company that comes into contact with protected health information (PHI) while performing work on your behalf is defined as a Business Associate, and you are responsible for making sure that they understand their obligations to protect the privacy and security of PHI.
Your fax platform provides a critically important communication link between your organization, the other organizations you interact with, and the patients you serve. At WestFax, privacy and security are central to everything that we do, including our business practices, policies, procedures, and personnel training. With multiple options to integrate fax into your processes and applications,we offer maximum interoperability for organizations that manage patient information on a day-to-day basis.
Sign up today for a free trial of WestFax's HIPAA Basic plan; or if you'd like to sign up for one of our plans, visit our Healthcare Fax page to learn more. Contact us today at 800-473-6208 to discuss your needs; we can help you understand how our HIPAA-compliant cloud fax can work for you.