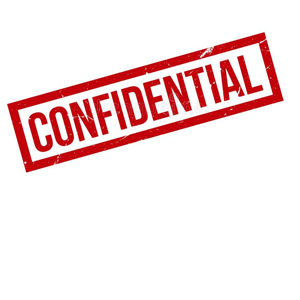 Sending confidential information by fax has significant advantages over using e-mail attachments. E-mail, after all, is notoriously susceptible to security breaches. Over and over again, we have seen stories in the headlines that provide clear evidence of the potentially disastrous consequences of relying on e-mail for confidential communication.

Fax, on the other hand, has proven to be reliable and secure; so much so, in fact, that hospitals and other medical providers routinely use secure fax services to transmit confidential patient information. That information is protected by federal law, and there are severe penalties when healthcare providers fail to provide adequate safeguards against unauthorized access.
`
Although electronic fax services are highly secure, it's important to take the appropriate precautions when faxing confidential information in order to ensure that unauthorized parties do not access it. It's good practice to include a confidentiality statement as part of a cover page for any fax that may include sensitive information.
Here are some guidelines for putting together a good fax confidentiality statement:
The confidentiality notice should always appear on the fax's cover sheet, along with a notice of the intended recipients, their contact information, and the contact information of the sender. It is highly recommended that the word "confidential" appear prominently (in large type) on the cover page.
The confidentiality notice should clearly state that the fax may contain information protected by law and should therefore only be viewed by the intended recipients listed on the cover page. It is usually not necessary to specify the specific law in question (e.g. HIPAA).
The statement should warn that anyone other than the intended recipient is expressly prohibited from reading the remainder of the document, and from disclosing, copying, distributing, or otherwise disseminating the information contained in the fax.
Anyone who receives the document by accident should be requested to inform the sender about the transmission error and to physically destroy the copy they received.
Fax confidentiality statements provide protection for both senders and receivers against legal liability in the event that the information is accessed by an unauthorized third party. In addition, senders will receive confirmation of the transmission to the intended recipient, providing an additional level of legal protection.
While it is common for e-mail communications to include similar disclaimers, they don't provide the same level of legal protection. Moreover, they typically appear at the end of an e-mail communication, after the confidential information; so they do a poor job of preventing the accidental disclosure of confidential information.
When using an electronic fax service, the process of adding a cover page with a confidentiality statement is remarkably simple. With WestFax, you can add multiple documents to a fax, simply by browsing to PDF files, Word documents, or image files. The WestFax Print to Fax Driver makes it easy to send secure faxes directly from your computer. We make it easy, offering four different ways to send a fax. If you are looking for a more secure way to send confidential information, check out our secure cloud fax services. WestFax makes the process painless.
* The information contained in this article is provided for informational purposes and should not be construed as legal advice on any subject matter. You should not act or refrain from acting on the basis of any content included in this site without seeking legal or other professional advice.