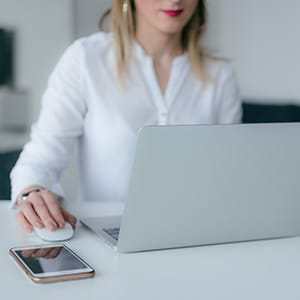 Most people aren't aware of it, but the humble fax continues to play a significant role in business, healthcare, and government institutions. Today's fax technology has matured considerably, though. Users can send and receive documents securely, from a desktop computer or mobile phone; and they can access document history and confirmations through a secure online portal.
Banks, healthcare providers needing HIPAA compliance, and government offices continue to use fax routinely. Nearly every member of Congress has an inbound fax number so that constituents can send them messages. A foundational rule of marketing says that you should make it easy for customers to communicate with you; so it only makes sense to add electronic fax to your business communication toolbox.
Let's look at a few of the ways WestFax makes the process simple and painless.
Fax to Email
With fax to e-mail, you don't even need to be signed in to the web portal. Sending a fax is as simple as attaching a document or image file to an e-mail, and addressing that e-mail using the phone number that the recipient has provided to you. To send a fax to (888) 555-1212, for example, simply send the document as an attachment to 8885551212@westfax.com. WestFax will automatically identify it as a fax from your account (based on the e-mail address that you are using to send it), and it will be sent as an outbound fax from your account.
Print To Fax
A third method is to print directly to fax. WestFax provides a print driver for Windows that installs in less than a minute. When you print a document, the WestFax print driver shows up as another printer available to your computer. Simply choose WestFax as your printer, add a phone number, and click "Send Fax".
Using the WestFax API
For software developers, or for companies using customizable enterprise applications, WestFax provides an application programming interface (API). Using the API, a software developer can add some simple, straightforward code that will enable fax functionality to be embedded directly into the software you use every day.
Imagine, for example, that you use a customizable software package to send customer invoices and track receivables. Some of your largest customers routinely call to ask for a monthly statement via fax. By adding a "Fax Statement" button to the customer screen, you can reduce the process of faxing a statement to a single mouse click. With a small amount of programming, a developer can retrieve a fax number from the customer record, run a customer statement report, and pass it to the WestFax API. The API does the rest, sending the document along using secure electronic fax technology and delivering it to your customer.
WestFax Even Manages Your Paper Trail
One of the nice benefits of using WestFax is that you have a permanent record of all of your inbound and outbound faxes, easily accessible through the web portal. If a recipient claims that they never received your fax, you can easily go back to the portal and verify the date and time that it was sent, and confirm that it was received. Inbound faxes, too, are available to view, print, and download. You can forward a fax that you have sent or received, or even e-mail a PDF.
If you are currently using a multifunction machine with a shared phone line, you're missing an opportunity to operate more efficiently. There are very good reasons why cloud fax technology continues to be widely used. WestFax makes the process painless.