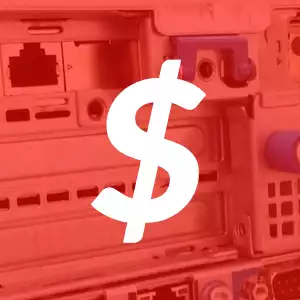 The Hidden Cost of an on-premise fax server and how you can save money and improve patient care with Secure Cloud Fax
If fax plays an important role in your operations and you're not already using a HIPAA Compliant secure cloud fax service, then you're probably wasting a lot of money. Cloud technology has led to a fundamental shift in the way organizations handle many of their business processes. A trend that started with "software-as-a-service" (SaaS) has now proliferated into a host of new "as-a-service" variants. There are some very good reasons why this approach has gained popularity so rapidly, – but the crux of it is this: Most companies realize that it's better, cheaper, and safer to rely on dedicated experts to manage complex systems than it is to try doing it themselves.

For healthcare organizations, legal firms, and others that routinely rely on fax to exchange information securely, the do-it-yourself approach can be extraordinarily expensive.

Fax technology began as a simple proposition. Like many things, though, it has grown quite complex. Fax has been integrated with software applications. In many organizations, volumes have steadily increased, leading to concerns about scalability. Since the onset of the COVID pandemic, more employees are working remotely, prompting a need for greater flexibility.

Even for organizations with seemingly simple requirements, though, traditional approaches to faxing documents can get very expensive. Many of those costs are hidden, so companies often spend far more than they should. Very often this shows up as a drain on staff time and resources. It can be hard to measure, but these are nonetheless very real costs.
The High Cost of Analog Fax
In fact, many organizations still rely on old-fashioned analog fax machines or multi-function printers. Consider what it takes to send a fax using one of these devices, though. An employee has to walk across the office, hope that the machine is available, load the document, and enter a phone number. It typically takes between 30 seconds and a minute to send each page. If it's a long document, the person might choose to walk away and return later to retrieve the original. Unfortunately, not all analog transmissions are successful. Something as simple as a paper jam can cause the whole thing to fail.

Employee time is expensive. Toner and paper, likewise, add to the cost of the traditional fax machine or MFP approach. For secure transmissions, the analog approach is problematic. When an incoming fax sits on the printer for an extended period of time, that opens the door to exposing confidential information. For healthcare organizations, that can mean HIPAA violations and stiff financial penalties.

If the machine breaks, if the toner runs out, or even if there's a simple paper jam, – fax activity can come to a screeching halt. That consumes more staff time. Fax machines don't easily lend themselves to remote work, either.


Getting rid of On-Premise Fax Servers
These challenges have led many organizations to look toward server-based fax technology. Historically these have been on-premise systems. They require design, implementation, and ongoing support. They consume valuable space in the server room. In addition, they demand the attention of IT staff who must develop the necessary expertise, monitor these systems routinely, upgrade them periodically, and troubleshoot problems when they occur.

On-premise fax servers require user-based software licenses. Annual maintenance fees typically amount to 20% of the base license cost. It can cost up to $1,200 per month to operate a Windows Server. The hardware is expensive and must eventually be upgraded. Someone from the IT department needs to apply security patches periodically. These systems also need to be monitored against potential security threats. Over time, all of these expenses add up.

Then there are the telephony costs. Monthly fees for T1/E1 or SIP trunks are quite steep. As volume increases, so does bandwidth. That leads to even higher telephony expenses.
Fax Evolves: Secure Cloud Fax Lowers TCO
Cloud fax provides far greater flexibility than on-premise solutions. Cloud fax scales up easily, without the need to add hardware or bandwidth when volumes increase. With cloud fax, you don't pay telephony charges. That eliminates one of the highest direct costs associated with running an on-premise fax server.

The indirect costs can be even higher, though. Managing an on-premise fax server consumes valuable IT resources. It requires specialized training, security monitoring, OS upgrades and patches, and more. Cloud fax dispenses with all of that. It frees up your IT staff to focus on other things.

Just as importantly, cloud fax is more secure. It prevents your organization from facing steep fines for HIPAA violations or other disclosure of confidential information. WestFax maintains its servers in access-restricted data centers that offer 24/7 security, video surveillance, and biometric access control. Most on-premise systems simply aren't protected by that kind of security. Nor are they monitored 24/7 by cybersecurity experts. Cloud fax servers, on the other hand, are monitored and protected full time by dedicated staff.

The net result is lower TCO, higher security, and greater flexibility. Even for companies who have already invested in on-premise fax servers, cloud fax is still a net-positive move. To learn more, contact us for a free consultation.