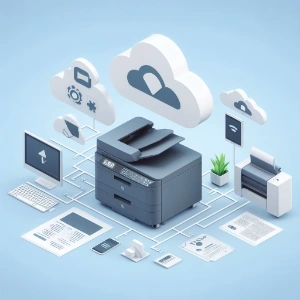 With modern technological advancements, faxing has evolved significantly, allowing users to integrate it seamlessly with existing infrastructure. One device that has undergone this integration is the Multi-Function Printer (MFP). But how do you effectively 'fax-enable' your MFP? Let's delve into three methods:
SMTP (Simple Mail Transfer Protocol) with TLS
SMTP has been a primary method for sending email for decades. It allows MFPs, which might not have built-in fax capabilities, to send an email that can be converted to a fax format. The crucial aspect here is the use of TLS, which provides an additional layer of security by upgrading plain text connections to encrypted (TLS or SSL) connections, this ensures a safer and more secure fax transmission. WestFax, as a leading service provider, transforms the securely sent email into fax format, ensuring that recipients obtain their documents just as they would from a fax service directly.


Native Connectors
These native connectors are software solutions that are tailor-made for specific MFP brands. By installing these connectors, the MFP device gets a direct interface for fax services. It ensures a streamlined process and can be a plug-and-play solution for brands like Sharp and Xerox, making faxing even more straightforward and efficient.


WestFax CloudFax Toolkit (CFT)
The WestFax CloudFax Toolkit is a game-changer. As an On-Premises software suite, it's designed to integrate WestFax services into an organization's infrastructure with minimal hassle. Here's a deeper look into its capabilities:



MFP to Fax Integration: For those older MFPs that may not support modern secure connectivity standards, the CFT acts as a proxy, ensuring the secure routing of faxes. It processes the email fax and then routes it to WestFax via a secure TLS 1.2 transport.

Drop Folder Faxing: EHR systems often use a file-based sending mechanism. Files, structured with essential faxing details, are placed in specific folders monitored by the CFT. Upon detection, these files are processed and sent directly to the WestFax API for faxing. Post-processing options ensure that faxes are appropriately managed post-sending.

Active Directory & Allowed Sender Synchronization: This simplifies the process of managing who can send faxes. It allows users to assign security groups to fax numbers, streamlining the process and ensuring only authorized users can send faxes.

Inbound File Delivery: This feature allows users to specify where inbound faxes are saved. Whether to a local folder, network folder, or UNC path, it provides users with flexibility and convenience.
The WestFax CloudFax Toolkit not only boasts a robust set of capabilities but also ensures these integrations adhere to the highest security standards. From MFP to Fax integration, to Active Directory synchronization, the toolkit offers an all-in-one solution for modern faxing needs.
Gone are the days when faxing required a dedicated machine hooked to an analog phone line (POTS). With methods like SMTP, native connectors, and the WestFax CloudFax Toolkit, integrating faxing into MFPs has never been easier. Step into the future with these faxing solutions. They're efficient, secure, and way easier than you might think!
We support every MFP vendor including Toshiba, Ricoh, Konica Minolta, Kyocera, Lexmark, HP, Xerox, Canon and more. So if your organization is looking to update its technology and work with a fax provider who understands integration, call us at 800-473-6208 to discuss your needs.