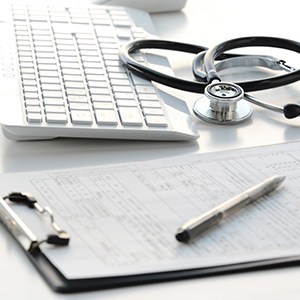 The fax machine as an office appliance is outdated, insecure, and a complete waste of time and money. How can you be sure that patient records are secure? Is someone monitoring the fax machine 24/7? HIPAA requirements are clear and fines for non-compliance are steep. Fax is still the best way to securely transfer patient records, but not with a traditional fax machine. Smart medical office managers are making the switch to cloud-based fax solutions and it's easier than you may think.
Here are 5 benefits of making the switch today.
Get rid of that old phone line. With the introduction of VoIP-based phone systems, the orphaned fax line has become an expensive proposition. Many phone carriers don't even offer a suitable solution for your fax machine. If they do offer a standalone telephone line the technology used makes sending and receiving fax very difficult. The time wasted chasing down faxes that don't go through can make you crazy.


Cloud-based fax solutions are much more secure. You only print the records you need, if you even need to print them at all. The ePHI documents you send are receive are stored securely waiting for you when you need them. Notifications can be sent via e-mail so you know when a fax is received.


HIPAA compliance is much easier. If you do a HIPAA compliance audit you'll find your unattended fax machine may put you in some serious hot water. Can the nighttime cleaning crew view your inbound faxes?


Storage. Most cloud-based fax providers offer document storage that enables you to refer back to patient records or integrate with your practice management software. This is a huge benefit for busy medical practices.


Mobile apps. Imagine viewing a secure patient record on the golf course or at your child's sporting event. Cloud fax providers usually have mobile apps that allow you to do just that.
Now is the time to make the switch. WestFax offers a 60-day FREE trial.